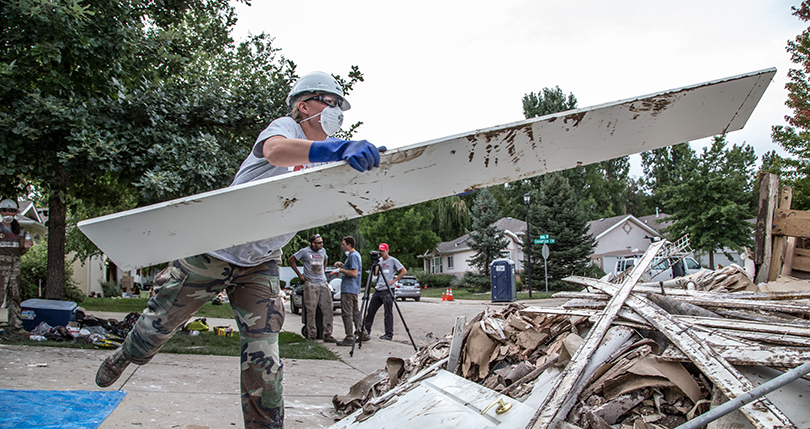 Team Rubicon (TR) is an organization uniting military veterans with first responders, dedicated to serving displaced victims of disaster and bridging the gap between the moment of disaster and conventional aid response. Laurie Reiprich is a veteran of the war in Iraq, and an active member of TR.
Since returning home from Iraq in 2008, Laurie has lived in both Salt Lake City and Boise where she enjoyed the outdoors.. Today she prepares for a move to Santa Barbara, California, with her fiancé Ryan, at the end of November. Laurie is an inspiration to many, and like so many inspirational people we meet, she seems to have as much appreciation for her work as the people and communities she serves. Recently we had the pleasure of getting a little of Laurie's time.
Hey, Laurie. First of all, thank you for taking the time to do this interview. And, especially, thank you so much for all that you do to serve our country.
Could you start by telling us a little about your Armed Forces service?
I've been in the Air National Guard—Air Force—for 15 years. I was in the South Dakota Air National Guard for 9 years, where I was an Ammo Troop and was deployed to Iraq. Currently, I'm in the Utah Air National Guard, serving as an Intelligence Officer.
After returning home, I remember feeling like I no longer fit in. I had grown up too fast and could no longer relate to the typical college-related struggles. I eventually settled back into my civilian life, but it certainly took some time and effort.
That's quite a journey. … What made you decide to join the military in the first place?
I joined for a few reasons, the first of which was to follow the example set by my father; he spent over 20 years in the Army National Guard. I also saw it as a way to pay for college and to travel the world.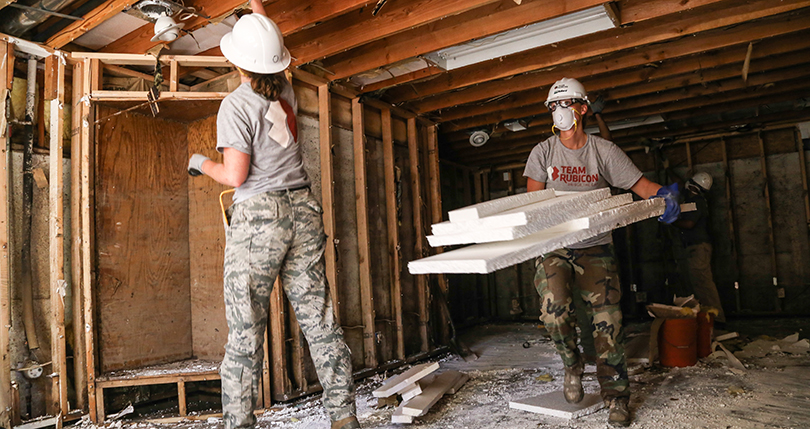 I bet you've got enough stories from your service to write a book. Is there an experience that really sticks out in your mind for any reason?
When traveling home from Iraq, we flew into Bangor, Maine, where we were greeted by a long line of WWII veterans wanting to shake our hands and welcome us home. Knowing that, in their eyes, we had 'done good,' and they were proud of our service, was an incredible feeling. This will be a familiar recollection for many veterans that traveled through that airport during the 2000's, as these WWII veterans were doing this every week, they were committed to being there for us and they never stopped serving.
What an amazing story. It's remarkable to witness the closeness and the support within the veteran community.  … On that note, tell us about Team Rubicon.
I first heard about the Team Rubicon in 2010, from a friend I had been in the military with that was also a classmate of Jake Wood, the cofounder of Team Rubicon. I was immediately interested in being a part of the organization; I wasted no time! [I joined in] 2010, and I've been a Regional Manager since 2013. My focus is on volunteer engagement and creating service opportunities for them in their home communities while also ensuring our volunteers are trained and ready to deploy and respond to disasters.
Often times, our work in the military can be about destruction and Team Rubicon gives us the opportunity comfort to those in need and help them rebuild, during what is likely one of the worst days of their lives.
Very well said. Since TR is really focused on serving people and communities on those "worst days," then moving on as traditional aid arrives, do you ever get to see the upside? Do you get to experience the hopefulness or fulfillment from the situations you work in?
In the fall of 2013, Team Rubicon responded to the flooding in Colorado. We mucked out the basement of a WWII widow. She was in total disbelief that we were there to help her, free of charge. Once we were all finished, she hugged each of us and told us how proud her husband would've been of the work we were doing. We all left with lumps in our throats.
I'm not sure there's a better feeling than helping those in need and being around fellow volunteers who share that common goal. I also think my involvement with TR has led to a greater investment in my local community, to improve it in other ways, outside of a disaster. Team Rubicon has provided me with a wonderful community and a greater sense of purpose.
I don't think there's a better sentiment to end on than that.
We want to say another huge thanks to Laurie, for her time and for her service.