Gerber's newest automatic knife offering, the Empower series, is available for purchase.  The American-made automatic knife will be listed for $125 on Gerber's website, as well as available through local retailers. The first look at the series came at Shot Show 2018 in Las Vegas, Nevada, where it debuted to awards, accolades, and positive reception from the industry.  The new series is available in 4 distinct styles, each with varying color and material combinations that aim to appeal aesthetically to the everyday carry consumer.

Urban Blue w/ Black Oxide Blade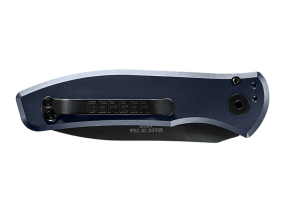 "The Empower series navigates the user divide between EDC users and tactical operators with 4 colorways and a unique new blade shape," says Karrson Koivisto, Product Manager for Gerber. "This American-made automatic knife is another distinct step in Gerber's pursuit of delivering choice materials and world-class craftsmanship at an accessible price point. The Empower balances the innovation of Armored Grip™ Tech and a snappy opening mechanism with the time-tested durability of S30V steel and the battle-ready chassis of the Propel. It has the spirit of a warrior, evolved for the everyday carry user."

Black w/ Stonewash Blade
Based on the chassis of the field-proven Propel, the Empower is Gerber's newest American-made automatic knife.  Specifically designed with a focus on everyday carry, this daily workhorse wields lightning-quick deployment and safety-focused locking mechanisms. A false edge spear point blade (available in a stonewash or black oxide finish) delivers utility and piercing capability, ideal for survival situations and daily chores alike. The oversized plunge lock and safety slide partner together to provide unrivaled control when deployed, as well as keep it safely stowed when in pocket.  The Armored Grip™ handle offers reliable control and a tactile hand feel; electro-formed handle scales provide a quick, confident grip as well as different design options to choose from.
Grey w/ Black Oxide Blade
The Empower joins an honored lineage of iconic products that are manufactured in the Portland, Oregon facility – learn more about Gerber's commitment to American manufacturing here. As always, Gerber remains dedicated to crafting tools that stand the test of time, and each product is backed by Gerber's limited lifetime warranty.

Black w/ Black Oxide Blade